Sleep
like a lord
Welcome to the Le Brasilia campsite! Our outdoor establishment invites you to come and discover and make the most of its holiday rentals, comprised of modern and spacious mobile homes, chalets and holiday homes. These are very well equipped and are able to accommodate families and groups of friends. There are pitches by the sea for tents, caravans and campers.
If you are looking for a holiday rental in the Languedoc Roussillon, you should know that our 5 star establishment, one of the loveliest open-air hotels in the region, will certainly meet your needs! Le Brasilia indeed has some 262 holiday rentals. Although there are some holiday homes on the campsite, the majority of these rentals are comprised of mobile homes, able to accommodate between 2 to 8 persons. Modern and well equipped, with a terrace to be able to spend most of your time in the open-air, all are air-conditioned, our mobile homes will meet all your requirements. Some holiday rentals are even laid out in high-end districts, fully pedestrianised and shaded, such as the Créoles, Marquises, Dali or Okavango districts. As with the entire campsite, these districts are maintained with great care, abundantly in bloom, and have a remarkable cleanliness!
As for the pitches, numbering 436, these are spread into 3 ranges. There are the pitches located less than 200 metres from the beach with mains water, mains waste water disposal and electricity. There are those located between 200 and 400 metres from the beach with mains water, mains waste water disposal and electricity. Lastly there are standard pitches with electricity located in the center of the campsite.  In total, 8 sanitary pavilions are spread over the site.
Find accommodation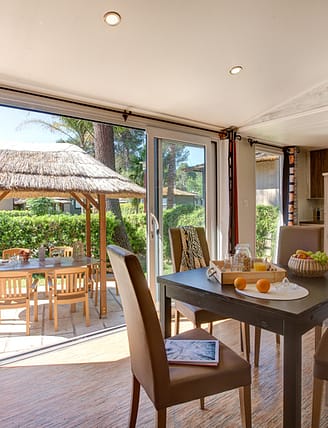 No result
Try modifying your search criteria by changing your dates or deleting the filters.
Other dates may be of interest to you :
New for 2022

Cottage Sud 3 rooms 2 bathrooms

Maison de vacances Pinède

Cottage Persons with Reduced Mobility

Maison de vacances Brasilia

Maison de vacances Brasilia

Comfort pitch - 200m from the beach

(- 200 m from the beach)

Comfort pitch

between 200 m and 400 m from the beach
Other dates may be of interest to you :